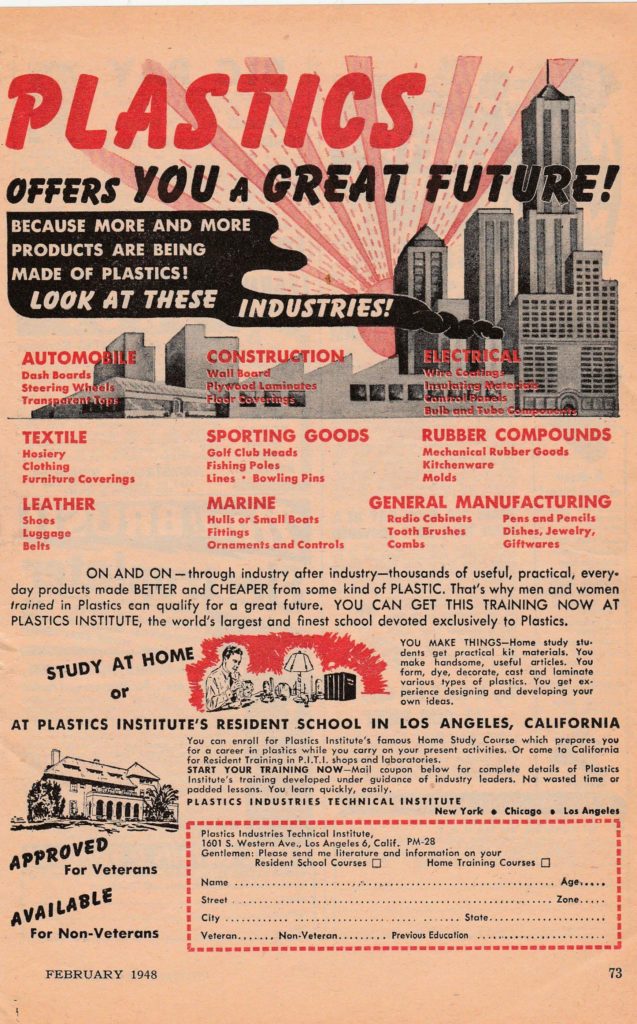 An advertisement in the February 1948 issue of Popular Mechanics
Welcome to the Plastic-free Biennale blog. We are artists Lucas Ihlein and Kim Williams and we've been invited to participate in NIRIN, the 2020 Biennale of Sydney.
We acknowledge the traditional custodians of Sydney – the Gadigal people of the Eora Nation.
Our art practice sits within the field of socially engaged art. Over the past few years we've been working with many different people to promote better environmental practices on land and sea. The invitation to participate in the Biennale of Sydney recognises our methods of engagement with communities. For this work, we ask "how could the Biennale go plastic free?" We're working with the Biennale staff to look at the way they use materials within the institution and also in the staging of the festival itself. We're creating a work on Cockatoo Island that engages audiences in the issue in practical ways. We'll also hold public discussions there, involving visitors, special guests and policy makers. For our own education, we're going on a research journey to find out more about plastics. We're using this blog to document our findings and share them with you.
We declare our ignorance up-front. All we really know at this stage is that there is an enormous variety of plastics, with different properties, made in different ways. As a material, plastic is a success story: it's cheap to produce, it has a huge range of applications, it's light, it's tough, it enables the transport of goods around the world, it keeps things fresh. From an environmental perspective, it's a disaster. Most of us have seen the distressing images of seabirds with their guts crammed with plastic, of turtles choked by plastic, of the Great Pacific Garbage Patch, a floating plastic island three times the size of France.
With so much public discussion now about things like single-use plastics and the recycling crisis in Australia, we think it's a good time to roll up our sleeves and get started. The blog will trace our journey over the coming months, to the opening of the Biennale on March 14, 2020, and through to its conclusion on June 8. We invite you to contribute your thoughts and comments, as well as things you know that we don't!